The Transom Of Woe
on
June 23, 2005
at
12:01 am
First published: March, 1989. First posted online: June 23, 2005.
The "Siege at Dark Natasha's Flat" continuity consisted of six episodes, drawn three to a sheet. We can't recall if we sent them in one sheet at a time, or all at once. In any case, whether subconsciously or not, Chris drew the strips a little narrower than the rest. There wasn't any deliberate calculation. In fact, before we used computers for this sort of thing, measuring was something we didn't do much of. Perhaps we were waiting for everyone to go metric. Anyway, we only did this monthly, so standards kinda came in batches…
At right is a shot of the edge of one of the sheets, showing the crazyquilt layout of the strips. Must have driven them nuts to shoot.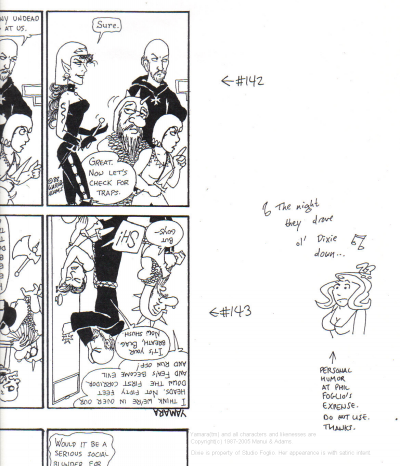 Also, in the margin, a bit of contemporary fannish snarkiness from the upstarts in the direction of Messr. Foglio. He had the last laugh, though: Dragon reinstated What's New? with Phil and Dixie in 1999 for awhile, long after Yamara was cancelled.
Ironically, it was Dave Trampier's Wormy that vanished the same time Yamara began in Dragon, along with Trampier himself. But more on that business another time…