Oh My God! There's An Axe In My Head.
THE GAME OF INTERNATIONAL DIPLOMACY



GENEVA, 1920.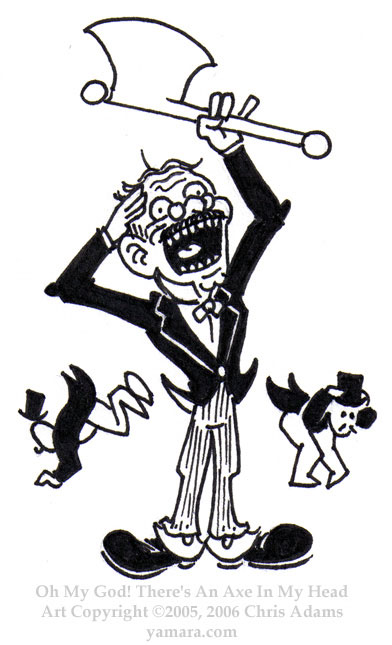 It is the first meeting of the League of Nations, and the Swiss are so proud of hosting this august body, that they invite their champion axe-juggling troupe to entertain the assembled delegates.

Unfortunately, halfway through the demonstration, the troupe goes insane, and begins pitching hatchets into the audience. Players take the roles of the Great Powers, who use the confusion to conduct international business amidst the chaos, and generally try to shift the balance of world power while escaping a bunch of armed psychopaths.
---
Oh My God! There's an Axe In My Head
is a boardgame of intrigue and mayhem for 3 to 6 players. In our latest set of rules, play time is about 60 minutes or less.
---
News for September 2011!
THIS PROJECT WILL BE FUNDED ON MONDAY SEP 12, 1:00am EDT.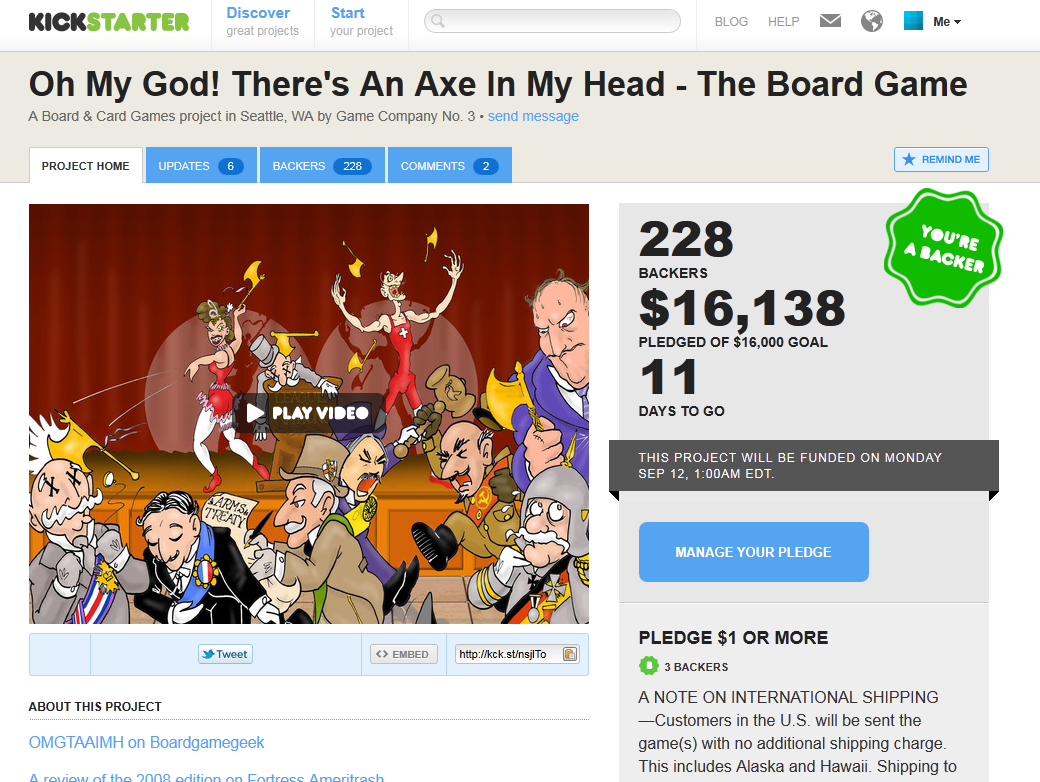 Early on Tuesday, the Oh My God! There's An Axe In My Head Kickstarter campaign reached its primary goal. We have less than ten days before the end of the campaign, so if you want to be one of the first to have this long-awaited game, you only have until the time specified.
Hugundous thanks to all our pledgers!!
"Oh My God, This Game's Getting Published!" –Sam Brown, creator of Lyssan
---
News for August 2011!
KICKSTARTER!
Yes, our Kickstarter campaign has begun. In little more than 40 days from now, we expect to turn the wheels of production on this long-awaited game. Dozens, maybe hundreds of people have played Oh My God! There's An Axe In My Head over the last seven years, and have asked again and again, "Where can I buy it?"
Well, Dave Fooden has put it together at last in a Kickstarter program. Click here and place your pledge–at this writing, we're off to a great start, and we don't want any of our longtime fans to miss out!
AND! Kickstarter has featured us on their weekly blog! "New Projects Are An Axe In Our Heads (In A Good Way):
The artwork looks a lot like what would happen if John Kovalic and Winsor McCay made an art baby, which is to say it looks really cool.
Whoa! Now that makes me want to kick back and play half a game of Munchkin while Burne Hogarth cleans half my brushes! I am abashed, and very honored by your words, Cindy A. of Kickstarter project. We will see to that Oh My God! There's An Axe In My Head will be worthy of those names.

---
News for July 2011!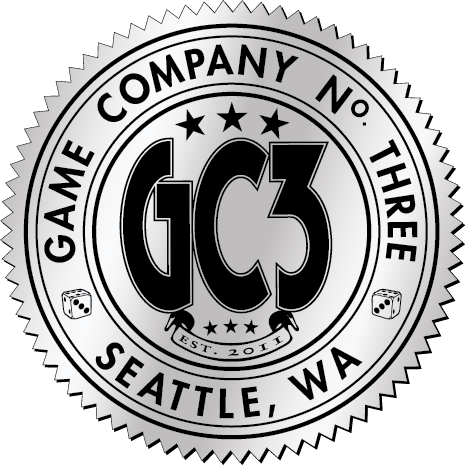 Attention all
Axe In My Head
fans!
After several years, and two game companies expressing interest, it has come down to us to put the game out ourselves. David Fooden has begun
Game Company No. 3
, and is developing a
Kickstarter
campaign to finance production. Help us get this game in your hands at long last:


Visit back here and at our BoardGameGeek page for the latest news and links to our company and Kickstarter pages.

---
BOARDSHOTS!

Oh My God! there's An Axe In My Head has been through years of playtesting. Here are some shots of previous playtest versions of the game:
Samples of Card Art: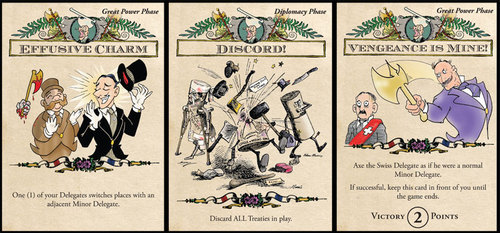 I-Con XXV: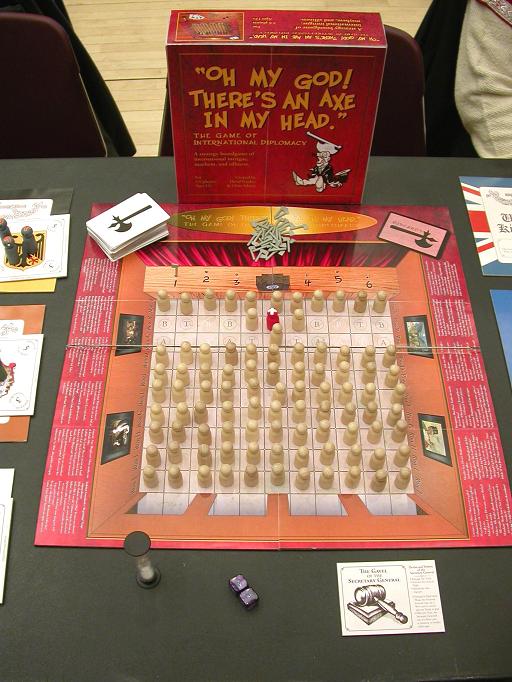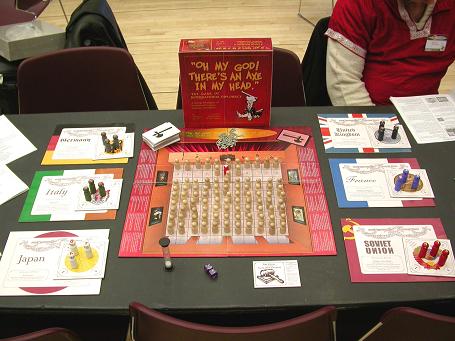 Origins 2009:
DexCon 12:
Special thanks to Bucephalus Games and Stronghold Games for their interest and advice on the game!