More Garlic
on
October 10, 2005
at
12:01 am
First published: October, 1991. First posted online: October 10, 2005.
This is one of those uneventful episodes where we weren't being funny on all burners, and trying make the plot a little more "heavy". Maybe it's because this was a complete rewrite after submitting a lost episode that we've never posted or even mentioned the existence of before. (see below)
Something like that. We weren't sure what we wanted to do with Persey yet either, so we decided it was time to go back into the dungeon. It was where all the jokes were stored, anyway.
And what well-drawn, clearly marked dungeon doors Chris drew! You'd never confuse them for the "coffins" mentioned in the dialogue. Slash offsarcasm, this is one big reason Chris had hoped to colorize all of the strips by now– to get those doors to pop with smoky, well-delinated evil portalness.
Oh, well. Later, hopefully. You'll just have to be satisfied with this stealth episode showing up with complete surprise and initiative, from out of nowhere:
Good Blood Circulation, rejected for October, 1991.
Script
YAMARA.
This had better work. I'm the only person left who's willing to hire you.

FEA.
It can't fail. There's a triple-strength love philter in Ogrek's wine and a periapt of vampire-summoning in the window.
When Persephone shows up, he'll fall for her, she'll bite him and fall for him, they'll elope to the next duchy, and you and Joe will have no more problems!

YAMARA.
SH– It's begun.
PANEL TWO
PERSEY.
(thinking)
(Ohh! Garnet! That promotes harmony and good blood circulation!)

FEA.
(O.S.)
Yes! Yes! *giggle*

YAMARA.
(O.S.)
Shut UP, Fea–
PANEL THREE
PERSEY.
Excuse me, have you seen Joe?

OGREK.
I think it's his night to customize reliquaries.
–Care for some philter?

PERSEY.
No thanks. But could I have this? It's pretty.

OGREK.
Sure thing. Good night.

PERSEY.
'Night!
PANEL FOUR
OGREK.
In my bachelor days I quaffed this stuff so much, I developed this tolerance–

FEA.
Okay. I can take a hint. I'll just give up magic-use and become a go-go dancer in the Vault of Dr–

YAMARA.
Sounds good. But first let's discuss your money-back guarantee…
FAQ:
Q. So how did you send these roughs in anyway? Did it take long?
A. It took no time at all, since we sent them the Marty McFly way– by fax!
In fact, if you'd like to see what one of our old rough paste-up faxes looked like, the one for Good Blood Circulation is posted here:
Q. Why hawthorne?
A. It's a lesser-known sovereign against vampires; it basically works like garlic in windows. Ovid recommended it to combat striges.
Q. Ah.
Q. Again, some assistance on the little hard-to-read words would be appreciated.
A. Cross-hatching and pixelation were never meant to have met:
More Garlic, Panel 1 (detail):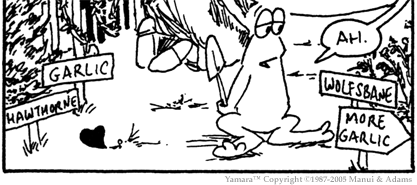 More Garlic, Panel 4 (detail):