on
October 24, 2005
at
3:10 pm
Our Quote of the Week goes to Chi-Chian creator Voltaire, who held his own on Fox News' The Big Story this weekend. They had him on as a goth pundit over the trial of a 16-year-old accused of murder… and melancholy.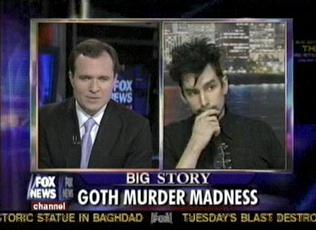 "The thing is, when I look at the screen, I see that it reads 'Goth Murder'. I wonder to myself, if he was an enthusiast of Country, if he was an enthusiast of Rap, would this be a Rap Murder? Would this be a Country Murder?"
–Voltaire
The Big Story Fox News
October 22, 2005.
Interview mpeg (79 MB) at philospud.com
Voltaire.net