Benny Thorax.
Originally uploaded: 3/25/97   Reedited 7/16/99
From his first roommate assignment in college, Benny Thorax has been an evil canker sore in the mucous membranes of our hero, Halek the WarChief. As if being freshman roommates wasn't bad enough, Benny hit on the lovely and vivacious Bethdariel, leading Halek to have a word with her.
Years later, Halek married Beth and brought her home to his tribe, the Clan of Six Teeth. The wedding was not beyond Benny's notice, and he immediately began plans of revenge. Being of a scientific bent, Benny has begun to test a horrific weapon that targets Clan members. Grethos, a targetable character, has arrived to assist him against their common foe– the WarChief.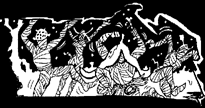 ---
Warchief: The Alumnus Copyright © 1997, 1999 Manui & Adams.
Warchief: The AlumnusTM and all characters and likenesses are trademarks of Aetherco. All rights reserved.
Reedited July, 1999.